Activities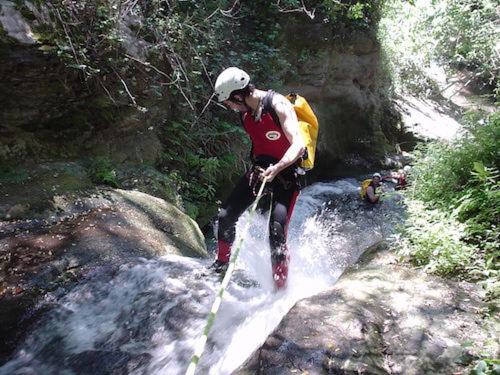 Canyoning in La Sima del Diablo ("The Devil's Chasm"), below the village of Juzcar.
This activity is undertaken with a monitor (only), a paid service from any of the many local companies offering equipment, i.e. - harness, helmet, boots, wet suit, etc, and insurance ensuring you have a good experience.
La Sima del Diablo is not a difficult exercise but does require the equipment provided by the monitors. Give us a call for more information and pricing.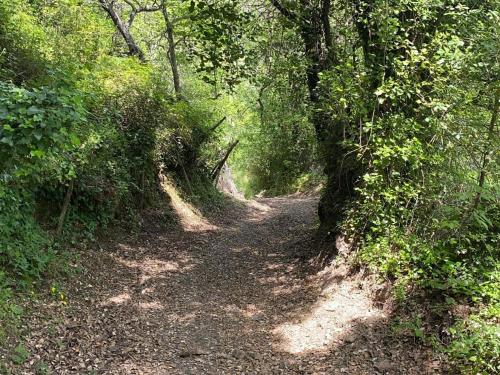 There are several trails that start directly in the village of Júzcar of varying degrees of difficulty. There is also a fantastic trail above the village in the area called "Los Riscos" which is not difficult and takes only about 80 to 90 minutes to undertake.
There are also trails connecting all the villages which will be found in varying states of maintenance, from clear and obvious to overgrown and difficult to pass, [art of the countryside adventure. There is a tourist information point in the village which can provide more details on the trails in addition to the guide book for the Genal Valley which we have here in the hotel.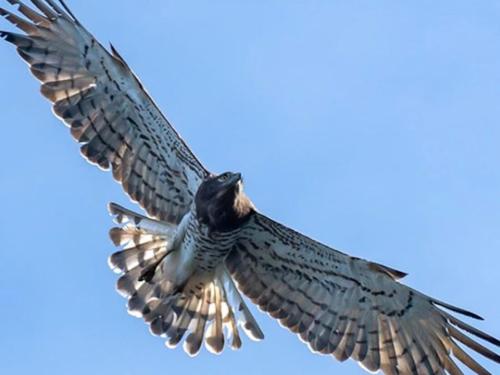 ABOUT BIRD WATCHING
Though just a short journey away from Málaga, the remote wooded mountains of the Serranía de Ronda are worlds apart from Spain's bustling Costa del Sol.
Situated between the limestone crags of the Sierra de la Grazalema Natural Park and Sierra de las Nieves Biosphere Reserve, and just a short journey away from the lagoons and plains of the lowlands, allows you to experience the range and depth of this area's extraordinary biodiversity.
This little-visited but astoundingly beautiful area hosts the densest raptor populations in Europe, at this time of the year (June) featuring Griffon Vultures, Bonelli's and Golden Eagle, Hen Harrier, Peregrine Falcon and Eurasian Eagle Owl. In late winter, hardy mountain birds such as Black Wheatear, Rock Bunting, Blue Rock Thrush, Red-billed Chough and Alpine Accentor hang out amongst the imposing limestone crags. Spanish Ibex cling to seemingly sheer rock faces. Thousands of acres of Mediterranean scrub and Sweet Chestnut forests provide food and shelter for wintering Ring Ouzels, Rock Petronia and Black Redstarts as well as woodland birds like Crested Tit, Hawfinch, Short-toed Treecreeper, and Firecrest.
Nearby, the Fuente de Piedra lake covers an area of almost 1,400 hectares. The shallow, salt water of this outstanding protected wetland is home to the largest colony of Greater Flamingoes on the Iberian Peninsula. White-headed and Ferruginous Ducks, Red-crested Pochards, Black-necked Grebes and Purple Swamphens stand out amongst the pink-feathered haze, and Black-winged Stilts, Little Stints, Kentish and overwintering Little Ringed Plovers parade in the shallows.
On the surrounding plains and farmland, you can enjoy the spectacular sights and sounds of hundreds of Common Cranes resting and feeding before they disperse to their northern breeding grounds, and with luck, groups of Little and Great Bustards and Black-bellied Sandgrouse. Iberian Grey Shrike and Black-winged Kite, Eurasian Stone Curlew and Bluethroat star amid huge flocks of wintering Eurasian Skylarks, Corn Buntings, Spanish Sparrows, Calandra, Crested and Thekla Larks.
Combine with a visit to the beautiful town of Ronda – its three historic bridges straddling the Tajo Gorge in spectacular fashion don't be caught here without your binoculars though – the town's birding is also impressive, with Red Crossbill possible in the town parks, Red-billed Chough often dropping in, plentiful raptors overhead and wintering Blue Rock Thrush in the gorge itself!